Study overview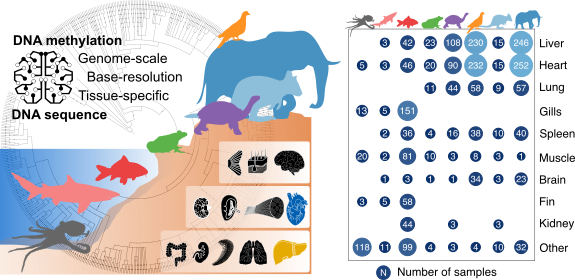 Methylation of cytosines is the prototypic epigenetic modification of the DNA. It has been implicated in various regulatory mechanisms throughout the animal kingdom and particularly in vertebrates. We mapped DNA methylation in 580 animal species (535 vertebrates, 45 invertebrates), resulting in 2443 genome-scale, base-resolution DNA methylation profiles of primary tissue samples from various or-gans. Reference-genome independent analysis of this comprehensive dataset quantified the association of DNA methylation with the underlying genomic DNA sequence throughout vertebrate evolution. We observed a broadly conserved link with two major transitions – once in the first vertebrates and again with the emergence of reptiles. Cross-species comparisons focusing on individual organs supported a highly conserved role of DNA methylation in defining tissue types, and cross-mapping analysis of DNA methylation at gene promoters revealed evolutionary changes for specific genes. In summary, this study establishes a large resource of vertebrate and invertebrate DNA methylomes, it showcases the power of reference-free epigenome analysis in species for which no reference genomes are availa-ble, and it contributes an epigenetic perspective to the study of vertebrate evolution.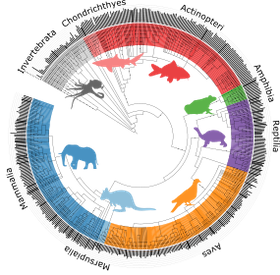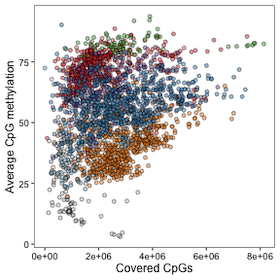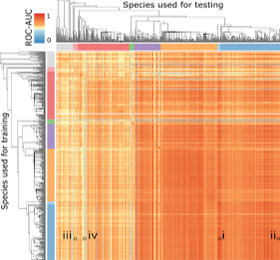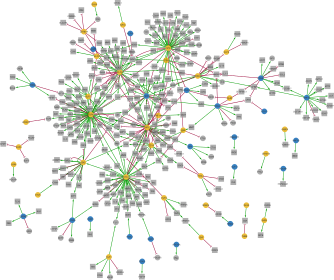 Correlative data exploration
Per-sample data can be explored using the interactive viewer below. Hover over (click on) a dot to highlight (select) all samples of a species. Double-click to deselect. (r = Pearson correlation)
Stats:
X-axis:
Y-axis:
Color:
Species:
Cross-species prediction of DNA methylation form sequence
Zoomable heatmap depicting ROC-AUC values as a measure of cross-species predictability of DNA methylation from DNA sequence. Rows represent the species used for training and columns represent the species used for testing.
To use individual models on your own datasets we provide an
interactive interface
with top-performing models for most of the classes.
Data download
| Description | Links |
| --- | --- |
| Raw sequencing data: | Unmapped bam files are being submitted to the NCBI Gene Expression Omnibus (GEO) repository (GSE195869) |
| Processed data: | Processed data (DNA methylation sequencing and consensus references) are being submitted to the NCBI Gene Expression Omnibus (GEO) repository (GSE195869) and can be downloaded as an archive (original size 547 GB) here. |
| Analysis code: | All source code relevant for data processing and analysis (ZIP) |
| SVM models: | Pretrained SVM models for predicting DNA methylation status, shared as RDS objects. (tar.gz) |
Collection of publicly available reference genomes
A collection of reference genomes used for cross-mapping and validation with download links and overview of genomic sequence features(tsv).
Search table:
| Common Name | Scientific Name | Taxonomic group | Genome | Total basepairs | N chromosomes | A freq. | C freq. | G freq. | T freq. | CpG freq. | CpG obs./exp. | Repeats freq. | Download link |
| --- | --- | --- | --- | --- | --- | --- | --- | --- | --- | --- | --- | --- | --- |
| Sea Hare | Aplysia californica | Invertebrata | aplCal1 | 715806041 | 8767 | 0.300 | 0.201 | 0.201 | 0.299 | 0.025 | 0.627 | 0.083 | link |
| Lancelet | Cephalochordata | Invertebrata | braFlo1 | 926386587 | 2 | 0.294 | 0.206 | 0.206 | 0.294 | 0.028 | 0.663 | 0.063 | link |
| C. intestinalis | C. intestinalis | Invertebrata | ci3 | 115227500 | 1272 | 0.322 | 0.178 | 0.178 | 0.322 | 0.028 | 0.867 | 0.149 | link |
| S. purpuratus | Strongylocentrotus purpuratus | Invertebrata | strPur2 | 907085737 | 114223 | 0.315 | 0.185 | 0.185 | 0.315 | 0.023 | 0.676 | 0.129 | link |
| Elephant shark | Callorhinchus milii | Chondrichthyes | calMil1 | 974498586 | 21204 | 0.288 | 0.212 | 0.212 | 0.288 | 0.020 | 0.445 | 0.271 | link |
| Coelacanth | Latimeria chalumnae | Actinopteri | latCha1 | 2860591921 | 22819 | 0.294 | 0.206 | 0.206 | 0.294 | 0.012 | 0.277 | 0.071 | link |
| Tetraodon | Tetraodon nigroviridis | Actinopteri | tetNig2 | 358618246 | 27 | 0.268 | 0.232 | 0.232 | 0.268 | 0.032 | 0.603 | 0.046 | link |
| Fugu | Takifugu rubripes | Actinopteri | fr3 | 391484715 | 6835 | 0.273 | 0.227 | 0.227 | 0.273 | 0.029 | 0.565 | 0.073 | link |
| Zebrafish | Danio rerio | Actinopteri | danRer11 | 1679203469 | 1923 | 0.317 | 0.183 | 0.183 | 0.317 | 0.018 | 0.530 | 0.545 | link |
| Nile tilapia | Oreochromis niloticus | Actinopteri | oreNil2 | 927696114 | 5678 | 0.298 | 0.202 | 0.202 | 0.298 | 0.016 | 0.399 | 0.033 | link |
| Medaka | Oryzias latipes | Actinopteri | oryLat2 | 869000216 | 7189 | 0.298 | 0.202 | 0.202 | 0.298 | 0.020 | 0.483 | 0.027 | link |
| Atlantic cod | Gadus morhua | Actinopteri | gadMor1 | 824327835 | 427428 | 0.274 | 0.227 | 0.229 | 0.270 | 0.031 | 0.590 | 0.081 | link |
| Stickleback | Gasterosteus aculeatus | Actinopteri | gasAcu1 | 463354448 | 23 | 0.277 | 0.223 | 0.223 | 0.277 | 0.033 | 0.658 | 0.036 | link |
| Axolotl | Ambystoma mexicanum | Amphibia | AmexG_v6.0-DD | 26730690244 | 28 | 0.270 | 0.230 | 0.230 | 0.270 | 0.025 | 0.469 | NaN | link |
| X. tropicalis | Xenopus tropicalis | Amphibia | xenTro9 | 1440398454 | 6822 | 0.300 | 0.200 | 0.200 | 0.300 | 0.014 | 0.340 | 0.337 | link |
| African clawed frog | Xenopus laevis | Amphibia | xenLae2 | 2718433805 | 108033 | 0.305 | 0.195 | 0.195 | 0.305 | 0.015 | 0.393 | 0.114 | link |
| Tibetan frog | Nanorana parkeri | Amphibia | nanPar1 | 2053849526 | 25187 | 0.287 | 0.213 | 0.213 | 0.287 | 0.020 | 0.434 | 0.013 | link |
| Garter snake | Thamnophis sirtalis | Reptilia | thaSir1 | 1424897867 | 7930 | 0.300 | 0.200 | 0.200 | 0.300 | 0.012 | 0.303 | 0.044 | link |
| American alligator | Alligator mississippiensis | Reptilia | allMis1 | 2174259888 | 14645 | 0.278 | 0.222 | 0.222 | 0.278 | 0.010 | 0.207 | 0.378 | link |
| Painted turtle | Chrysemys picta | Reptilia | chrPic1 | 2589745704 | 80984 | 0.279 | 0.221 | 0.221 | 0.279 | 0.014 | 0.281 | 0.027 | link |
| Lizard | Anolis carolinensis | Reptilia | anoCar2 | 1799143587 | 6457 | 0.298 | 0.202 | 0.202 | 0.298 | 0.012 | 0.292 | 0.076 | link |
| Turkey | Meleagris gallopavo | Aves | melGal5 | 1128339136 | 231286 | 0.293 | 0.207 | 0.207 | 0.292 | 0.011 | 0.252 | 0.081 | link |
| Medium ground finch | Geospiza fortis | Aves | geoFor1 | 1065292181 | 27239 | 0.292 | 0.208 | 0.208 | 0.292 | 0.007 | 0.157 | 0.057 | link |
| Chicken | Gallus gallus | Aves | galGal6 | 1065365425 | 464 | 0.289 | 0.211 | 0.211 | 0.289 | 0.012 | 0.276 | 0.126 | link |
| Zebra finch | Taeniopygia guttata | Aves | taeGut2 | 1232135591 | 37096 | 0.293 | 0.207 | 0.207 | 0.293 | 0.008 | 0.185 | 0.080 | link |
| Brown kiwi | Apteryx australis | Aves | aptMan1 | 1523986457 | 24719 | 0.294 | 0.206 | 0.206 | 0.294 | 0.012 | 0.281 | 0.038 | link |
| Golden eagle | Aquila chrysaetos | Aves | aquChr2 | 1192725744 | 1141 | 0.291 | 0.209 | 0.209 | 0.291 | 0.012 | 0.282 | 0.053 | link |
| Budgerigar | Melopsittacus undulatus | Aves | melUnd1 | 1117373619 | 25212 | 0.294 | 0.206 | 0.206 | 0.294 | 0.007 | 0.168 | 0.072 | link |
| Wallaby | Notamacropus eugenii | Marsupialia | macEug2 | 3075184024 | 277711 | 0.306 | 0.194 | 0.194 | 0.306 | 0.005 | 0.133 | 0.393 | link |
| Opossum | Monodelphis domestica | Marsupialia | monDom5 | 3605631728 | 11 | 0.311 | 0.189 | 0.189 | 0.311 | 0.005 | 0.135 | 0.545 | link |
| Tasmanian devil | Sarcophilus harrisii | Marsupialia | sarHar1 | 3174693010 | 35974 | 0.320 | 0.180 | 0.180 | 0.320 | 0.004 | 0.131 | 0.397 | link |
| Shrew | Sorex araneus | Mammalia | sorAra2 | 2423158183 | 12845 | 0.286 | 0.214 | 0.214 | 0.286 | 0.014 | 0.315 | 0.297 | link |
| Bonobo | Pan paniscus | Mammalia | panPan2 | 3286643896 | 10274 | 0.296 | 0.204 | 0.204 | 0.296 | 0.010 | 0.229 | 0.421 | link |
| Chimp | Pan troglodytes | Mammalia | panTro6 | 3050398082 | 4346 | 0.296 | 0.204 | 0.204 | 0.297 | 0.010 | 0.249 | 0.530 | link |
| Gorilla | Gorilla gorilla | Mammalia | gorGor6 | 3044872214 | 5486 | 0.297 | 0.203 | 0.203 | 0.297 | 0.010 | 0.253 | 0.496 | link |
| Gibbon | Nomascus leucogenys | Mammalia | nomLeu3 | 2962077449 | 17492 | 0.296 | 0.204 | 0.204 | 0.296 | 0.010 | 0.241 | 0.477 | link |
| Human | Homo sapiens | Mammalia | hg38 | 3209286105 | 455 | 0.295 | 0.204 | 0.205 | 0.296 | 0.010 | 0.242 | 0.505 | link |
| Proboscis Monkey | Nasalis larvatus | Mammalia | nasLar1 | 3011982740 | 319550 | 0.299 | 0.201 | 0.202 | 0.299 | 0.009 | 0.218 | 0.371 | link |
| Golden snub-nosed monkey | Rhinopithecus roxellana | Mammalia | rhiRox1 | 2899552139 | 135512 | 0.295 | 0.204 | 0.204 | 0.296 | 0.010 | 0.244 | 0.504 | link |
| Rhesus | Macaca mulatta | Mammalia | rheMac10 | 2971331530 | 2939 | 0.295 | 0.205 | 0.205 | 0.295 | 0.011 | 0.252 | 0.518 | link |
| Green Monkey | Chlorocebus sabaeus | Mammalia | chlSab2 | 2789656328 | 2004 | 0.296 | 0.204 | 0.204 | 0.296 | 0.010 | 0.242 | 0.481 | link |
| Crab-eating macaque | Macaca fascicularis | Mammalia | macFas5 | 2946843737 | 7601 | 0.295 | 0.204 | 0.205 | 0.296 | 0.010 | 0.247 | 0.477 | link |
| Tenrec | Echinops telfairi | Mammalia | echTel2 | 2947024286 | 8402 | 0.286 | 0.215 | 0.215 | 0.284 | 0.014 | 0.292 | 0.251 | link |
| Rock hyrax | Procavia capensis | Mammalia | proCap1 | 2985258999 | 295006 | 0.295 | 0.206 | 0.205 | 0.294 | 0.010 | 0.226 | 0.227 | link |
| Manatee | Trichechus manatus latirostris | Mammalia | triMan1 | 3103808406 | 6323 | 0.297 | 0.204 | 0.204 | 0.296 | 0.010 | 0.245 | 0.325 | link |
| White rhinoceros | Ceratotherium simum | Mammalia | cerSim1 | 2464367180 | 3087 | 0.296 | 0.204 | 0.204 | 0.296 | 0.011 | 0.272 | 0.373 | link |
| Cow | Bos taurus | Mammalia | bosTau9 | 2715853792 | 2211 | 0.290 | 0.210 | 0.210 | 0.291 | 0.011 | 0.247 | 0.496 | link |
| Baboon | Papio anubis | Mammalia | papAnu4 | 2959373024 | 63235 | 0.295 | 0.205 | 0.205 | 0.295 | 0.011 | 0.257 | 0.522 | link |
| Rat | Rattus norvegicus | Mammalia | rn7 | 2647915728 | 176 | 0.290 | 0.210 | 0.210 | 0.290 | 0.010 | 0.220 | 0.451 | link |
| Mouse lemur | Microcebus murinus | Mammalia | micMur2 | 2438804424 | 10311 | 0.295 | 0.205 | 0.205 | 0.295 | 0.012 | 0.290 | 0.404 | link |
| Chinese hamster | Cricetulus griseus | Mammalia | criGri1 | 2360146428 | 52711 | 0.293 | 0.207 | 0.207 | 0.293 | 0.007 | 0.153 | 0.265 | link |
| Bison | Bison bison bison | Mammalia | bisBis1 | 2953622319 | 450182 | 0.290 | 0.210 | 0.210 | 0.290 | 0.011 | 0.247 | 0.448 | link |
| Naked mole-rat | Heterocephalus glaber | Mammalia | hetGla2 | 2618204639 | 4229 | 0.299 | 0.201 | 0.201 | 0.299 | 0.008 | 0.201 | 0.287 | link |
| Hedgehog | Erinaceus europaeus | Mammalia | eriEur2 | 2715720925 | 5803 | 0.292 | 0.208 | 0.208 | 0.292 | 0.009 | 0.201 | 0.399 | link |
| Hawaiian monk seal | Monachus schauinslandi | Mammalia | neoSch1 | 2400839308 | 7872 | 0.293 | 0.207 | 0.207 | 0.293 | 0.012 | 0.271 | 0.426 | link |
| Elephant | Loxodonta africana | Mammalia | loxAfr3 | 3196760833 | 2353 | 0.296 | 0.204 | 0.204 | 0.296 | 0.010 | 0.247 | 0.466 | link |
| Orangutan | Pongo abelii | Mammalia | ponAbe3 | 3065052215 | 5261 | 0.296 | 0.204 | 0.204 | 0.296 | 0.010 | 0.234 | 0.265 | link |
| Mouse | Mus musculus | Mammalia | mm39 | 2728222451 | 61 | 0.292 | 0.208 | 0.208 | 0.292 | 0.008 | 0.190 | 0.440 | link |
| Microbat | Myotis lucifugus | Mammalia | myoLuc2 | 2034575300 | 11654 | 0.288 | 0.212 | 0.212 | 0.288 | 0.013 | 0.291 | 0.326 | link |
| Tree shrew | Tupaia belangeri | Mammalia | tupBel1 | 3660774957 | 150851 | 0.293 | 0.207 | 0.207 | 0.293 | 0.012 | 0.290 | 0.119 | link |
| Guinea pig | Cavia porcellus | Mammalia | cavPor3 | 2723219641 | 3144 | 0.300 | 0.200 | 0.200 | 0.300 | 0.009 | 0.216 | 0.270 | link |
| Rabbit | Oryctolagus cuniculus | Mammalia | oryCun2 | 2737490501 | 3242 | 0.281 | 0.219 | 0.219 | 0.282 | 0.014 | 0.289 | 0.417 | link |
| Squirrel | Ictidomys tridecemlineatus | Mammalia | speTri2 | 2478393770 | 12483 | 0.301 | 0.200 | 0.199 | 0.300 | 0.008 | 0.193 | 0.341 | link |
| Horse | Equus caballus | Mammalia | equCab3 | 2506966135 | 4701 | 0.292 | 0.208 | 0.208 | 0.293 | 0.012 | 0.289 | 0.445 | link |
| Ferret | Mustela putorius furo | Mammalia | musFur1 | 2410758013 | 7741 | 0.293 | 0.207 | 0.207 | 0.292 | 0.012 | 0.267 | 0.369 | link |
| Pig | Sus scrofa | Mammalia | susScr11 | 2501912388 | 613 | 0.290 | 0.209 | 0.209 | 0.291 | 0.012 | 0.283 | 0.449 | link |
| Cat | Felis catus | Mammalia | felCat9 | 2521863845 | 4508 | 0.291 | 0.209 | 0.209 | 0.291 | 0.014 | 0.323 | 0.426 | link |
| Dog | Canis lupus familiaris | Mammalia | canFam5 | 2343218756 | 794 | 0.294 | 0.206 | 0.206 | 0.294 | 0.011 | 0.263 | 0.417 | link |
| Sheep | Ovis aries | Mammalia | oviAri4 | 2615516299 | 5466 | 0.290 | 0.209 | 0.210 | 0.291 | 0.011 | 0.244 | 0.456 | link |
| Kangaroo rat | Dipodomys ordii | Mammalia | dipOrd1 | 2158502098 | 210053 | 0.283 | 0.214 | 0.209 | 0.293 | 0.012 | 0.260 | 0.205 | link |
| Megabat | Pteropus vampyrus | Mammalia | pteVam1 | 1996076410 | 96944 | 0.300 | 0.200 | 0.200 | 0.300 | 0.013 | 0.326 | 0.293 | link |
| Squirrel monkey | Saimiri boliviensis boliviensis | Mammalia | saiBol1 | 2608572064 | 2685 | 0.296 | 0.204 | 0.204 | 0.296 | 0.010 | 0.237 | 0.444 | link |
| Sloth | Choloepus hoffmanni | Mammalia | choHof1 | 2458927620 | 481259 | 0.306 | 0.194 | 0.195 | 0.305 | 0.007 | 0.188 | 0.300 | link |
| Marmoset | Callithrix jacchus | Mammalia | calJac4 | 2897824427 | 964 | 0.296 | 0.204 | 0.204 | 0.296 | 0.010 | 0.232 | 0.485 | link |
| Armadillo | Dasypus novemcinctus | Mammalia | dasNov3 | 3631522711 | 46559 | 0.296 | 0.204 | 0.204 | 0.296 | 0.010 | 0.252 | 0.451 | link |
| Alpaca | Vicugna pacos | Mammalia | vicPac2 | 2172177994 | 276611 | 0.294 | 0.207 | 0.207 | 0.292 | 0.012 | 0.282 | 0.340 | link |
| Lamprey | Petromyzon marinus | Jawless Vertebrate | petMar3 | 1130433897 | 12062 | 0.260 | 0.240 | 0.240 | 0.260 | 0.046 | 0.802 | 0.350 | link |
Citation
If you use these data in your research, please cite:
Klughammer* , J., Romanovskaia* , D., et al. Comparative analysis of genome-scale, base-resolution DNA methylation profiles across 580 animal species. Nature Communications 14, 232 (2023). https://doi.org/10.1038/s41467-022-34828-y
* These authors contributed equally to this work
Correspondence: cbock@cemm.oeaw.ac.at (C.B.), klughammer@genzentrum.lmu.de (J.K.)